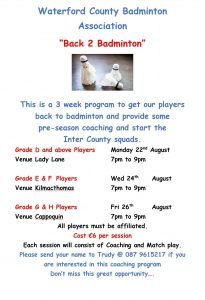 Well done to the Waterford G team who are All Ireland winners and the Waterford H team who are All Ireland runners up. Fantastic achievement!
Best of luck to the Waterford G, H and U17 teams who bid for All Ireland glory this weekend. The club are very proud of our players Fabien, James, Ashfaq, Pheobe and Samuel.
Well done to all our club players who represented Waterford on February 6th in the various inter-county competitions. Congratulations to the grade H team who won the Martin Morrissey cup and to the grade D team who were runners-up in their competition.
Club Representatives:
Grade H

Samuel Keating

Grade F

Fabien Scossa-Baggi

Grade D

Garvan Dunford

Adeel Ali

Triona Keohan

Rachel Dunford

Natalie Brown

Martin Walsh (Manager)